Atone Hyaluronic Acid Serum
The hydration station
Like a glass of water for thirsty skin, Atone delivers the organic + fragrance-free hydration that every skin type greatly benefits from. Botanical Hyaluronic Acid holds up to 1,000x its weight in water to act as a delicious wellspring for the epidermis. Consciously formulated with symbiotic ingredients such as Wakame Bioferment, Vitamin C and EGCG Green Tea Extract, Atone works to feed the epidermal microbiome, balance sebum to prevent clogged pores and visibly improve signs of rapid maturation. Atone is meant to be layered under a consecutive serum, such as Alchemy.
Typically dispatched within 48hrs
Free U.S. shipping for orders over $100
30 ml / 1 fl oz
This Product Works Well With
Customer Reviews
15 Jul 2021
Sheila Z.

United States
Magic 3-in-1 bottle for baby soft skin
Atone is a wonderful addition to Alchemy. I use Atone as a primer to help moisten the skin for better absorption for the Alchemy. I use these two together, top with spf and I am done for the day. I love how soft my skin feels with Atone. Great price point for having all 3 benefits in one bottle! I usually have to buy separate products to get the benefit of what I enjoy from this one pump. Mahalo for making simple, clean & effective products for busy moms like me. ✨
19 Jun 2021
Kathleen P.

United States
Amazing
I have really dry skin and this has been a game changer. It has not caused any acne to get worse and I feel it's changing the composition of my skin. My face does not feel as tight after washing it, or going to the pool, etc. I highly recommend for dry skin sufferers.
08 Jun 2021
Cassandra L.

United States
Divine
I'm a newcomer to Atone, but already I love it!
03 Jun 2021
Maartje

Netherlands
It feels like a blessing to use Atone
Years ago I reached out to Meagan for advice regarding my acne. She touched my heart by dedicating her time to writing me back in such a warm and loving way. I appreciated that so much. A few years went by, and after restoring hormonal and digestive imbalances and addressing my overall mental/emotional/energetic well-being; my acne faded and my skin got slightly better. Although I managed to address some important factors related to acne, I was not able to clear it completely because I was not able to still find the right products for my sensitive skin. I immediately knew I wanted to support a business with such kind, intelligent and loving people behind it. After using Atone and Clarity my skin got completely clear. I am so grateful that Meagan (and the Moon + Rock team) are dedicated to creating products that are of high-quality and are ethically made, but most of all are made with so much love and awareness. Thank You!
24 May 2021
Becky P.

United States
Nourishing
As an Ayurvedic practitioner I use Atone everyday in combination with Alchemy, I find Moon+Rock products provide extremely nourishing and effective skin care. I recommend them to family and friends.
18 May 2021
Anette

Netherlands
Water for my skin!
Atone is such a great addition to my routine. I use it every morning before applying Alchemy, and it leaves my skin super plump and glowy. As soon as you apply it, you'll feel your skin drinking it up like a great, healthy elixir! Really recommend Atone if you're looking for a solid staple in your skincare cabinet.
06 May 2021
Eliza E.

United Kingdom
The best serum I have ever used
It's so amazing and healing for the skin.It repairs the my damaged skin from dehydration.Rebuild the protective skin barrier.I would highly recommend.
30 Apr 2021
Astyr M.

United States
Happy
I used to have a layer of build up on my face before using the Hyaluronic Acid Serum that just wouldn't go away even with gentle exfoliation. My skin is brighter and has a really soft and clean texture after using this product. I'm definitely buying again!
18 Apr 2021
Danielle V.

Australia
Delicious
My face just ate this product up. Truly a new experience for me. I am usually a water and go woman. My skin repels anything I put on her but this one was so loved. I will keep using.
16 Apr 2021
Jessica K.

United States
15 Apr 2021
K-Lee P.

United States
Splendid
With the exception of the Alechemy Serum, Atone is my favorite Moon+Rock product. I apply it to my face after a shower in the evenings before I apply Alchemy, and it has really enhanced the softness of my skin. I love Atone particular for my t-zone, it keeps my skin moisturized and feelin cozy. I cannot recommend these products enough ✨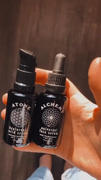 15 Apr 2021
Maureen J.

United States
Amazing!
I have tried everything - every oil, every serum for my maturing skin. Nothing is as pleasant and hard working as Atone. I swear my skin craves it in the morning and evening! It's become a beautiful start to my skincare routine. Love. Love. Love it!
14 Apr 2021
Jonelle G.

United States
Amazing product
My skin feels so soft and looks healthier since I have been using this. I would highly recommend this product.
14 Apr 2021
Natalie R.

United States
Love
I am so grateful for these products. My skin care routine has taken on a whole new form with results that are noticeable after a week of daily application. Thank you!!!
05 Apr 2021
Cynthia W.

United States
Works
I'm loving this stuff, makes my face feel hydrated
04 Apr 2021
Hannah R.

Canada
Love it!
I have always loved and admired Meagan's approach to skincare. It is the type of perspective and desire for holistic healing that has always come first for me- it all begins within. That being said, finding a product born from this sort of love, with great clean ingredients that works amazingly is just beyond!! This hyaluronic acid serum has complemented the minimal products I use perfectly and I can't see myself ever turning to anything else :)