A grounding pure plant serum for self-care sessions on the chest, breasts + yoni. 
As women, we hold immense power in the areas of our chest, breasts + yoni. And yet, these areas often get neglected underneath traditional skin and hair care. 
Our chest + breasts radiate through our life with the colors of compassion, love and beauty. They carry our empathy, aspirations, and ability to relate in relationships. When neglected, our heart space becomes blocked, resulting in difficulty relating with others, jealousy, and being generally withdrawn. When cared for, this space of the body opens in a softness and radiance which infuses essences of nourishment and kindness into all that it encounters. 
Yoni is the Sanskrit word for a woman's reproductive system. The yoni is our center for emotion, passion, creativity and empowerment. It is the sacred portal through which life is created and comes into manifestation. It is the center of creation. When neglected, foggy feelings may drape a dull fear over our life's purposes. But when cared for, the yoni nurtures our creativity and intimacy with the beauty of the planet. We then feel safe, grounded, and trusting in the mysterious unfoldment of life.
NOURISH is a grounding and protective blend, designed to soothe your most delicate tissues with intention, lubrication and hydration. It helps to nourish chest + breast tissues by protecting the skin and breaking up stagnant facial tissue when used during massage. It helps to harmonize vaginal pH and ease any itching, discomfort, dehydration or thinning. It is especially wonderful for recovery from childbirth. It may also be used as a sexual lubricant if desired.
In our mission to cut single use plastics, this product comes in a reusable cloth bag and recycled paper envelope.
For chest, lovingly rub 1-3 droppers full (depending upon skin's dryness) all over from neck to shoulders to breasts. As a breast serum, rub 1-3 droppers full onto breasts and lovingly massage (use a gua sha tool alongside if you'd like). As a yoni serum, rub 1 dropper full onto yoni petals to soothe + condition. *Patch test inside the elbow before applying to more sensitive skin.
* Our serums are always bottled in biophotonic Miron Glass to protect the potency of the plant oils inside. This bottle and it's contents are completely recyclable! At the end of its life, please give it a loving home in your city's recycling bin, or better yet, reuse it
All oils are organic, cold-pressed and of the purest quality. We never ever skimp on the potency of our plants! This bottle's contents are 1fl oz / 30 ml. 
Rosehip oil — Agreeable for all skin types, this soothing and elevating oil helps to protect against the day oxidative stress of life. For any kind of stress, rose shall be our ally. Rosehip oil contains antioxidants, tocopherols and carotenoids which deeply nourish skin tissue to regenerate sun damage and wrinkles, and paint a supple appearance. 
Sweet Almond oil — Vitamin E, vitamin A, monosaturated fatty acids, protein, potassium, and zinc are all the winners of this sweet almond oil. It powerfully protects against UV radiation as well as deeply lubricates tired and dry skin cells. This oil is praised in Ayurveda for its ability to impart softness, strength, circulation back into the areas it's applied. It's sweet scent brings harmony and empathy to the senses. 
Macadamia Nut oil — Second to jojoba oil, macadamia nut oil is the closest match to the naturally occurring sebum of the skin. We love this deliciously nutty oil for its highly anti-anti-inflammatory properties, as well as because it's lightweight and never leaves the skin feeling greasy. It eases the appearance of scars and discoloration, and is a wonderful soother for sunburns on the chest. It contains squalene and oleic acid which assist in cell regeneration.
Camellia Seed oil — Aka, green tea seed oil. This oil is a potent antioxidant to not only help protect the skin, but to help protect the various other oils in this blend. It is highly antimicrobial, which makes it a wonder for use on the yoni. 
Palo Santo essential oil — A divine, cleansing scent of the Amazon, palo santo imparts protection, elevation, and a sacredness to this blend. It alleviates stress by signaling calmness through the nervous system. It may also help to boost an immune system subject to the demands of everyday life.
Sage essential oil — Another kind, cleansing scent, sage oil aids in increasing our awareness, presence, and adaptability. It is incredibly calming and helps to wash away stagnant energy and rampant thought patterns. 
Bonus with Every Order 𖤓 Receive the I Am Beauty e-book, our holistic skin healing manifesto. This is an 18 page PDF free with every Moon + Rock purchase. You will be able to download it through the shipping confirmation email from any of your orders.
Customer Reviews
05 May 2021
Nina K.

United States
Perfect
Moon + Rock have the best skincare products I've ever found! They smell amazing yet still subtle and natural and they don't make me break out. I am very sensitive to artificial fragrances but these don't smell chemical-y at all! I love buying from a small business and seeing all the steps Meagan takes to make sure everything is healthy and eco-friendly. Plus my boyfriend loves to use them too, probably more than me :) You have a loyal customer!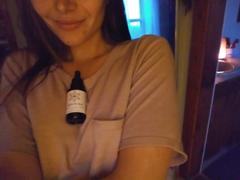 23 Apr 2021
Kathleen H.

United States
Delightful
All the Moon and Rock products I've tried (which is nearly all) are a delight to the senses and effective at taking care of my skin needs. The Nourish Oil specifically gives me a moment of self care every day and reminds me to take care of all parts of my body.
20 Apr 2021
Michelle W.

United States
AMAZING!
I love ALL of your products! I have every one and have been so pleased! I have fairly sensitive skin on my face and was concerned but I have had NO PROBLEMS! So grateful to have found these wonderful products and this great company! Blessed beyond belief! <3
18 Apr 2021
Danielle V.

Australia
Adore
My décolletage adores this!