Atone Hyaluronic Acid Serum
 Hydration is the number one epidermal ally. Dry pores overproduce sebum, causing even more breakouts and inflammation. Dehydration similarly leads to breakdown of collagen proteins activating signs of aging regardless of age. ATONE delivers the deeper hydration that all skin types need.
ATONE delivers organic, fragrance-free hydration to be layered underneath a consecutive serum. Essential for every day use, our Hyaluronic Acid holds up to 1,000x its weight in water.
We consciously formulated ATONE to include non-toxic ingredients (like Wakame Bioferment, Vit C, EGCG Green Tea Extract and Coq10) that prevent clogged pores, feed the epidermal microbiome, and visibly improve signs of stress and aging. These essential topical micronutrients continuously compensate for environmental stress (both seen + unseen).

In our mission to cut single use plastics, this product comes in a reusable cloth bag and recycled paper envelope.
Through your support with this sale, one dollar will be donated to One Tree Planted to root one new tree being somewhere on our Mother Earth where it is needed most.
Use morning and evening. Shake well. Lovingly rub 1-2 pumps onto clean skin after cleansing and before applying consecutive serum. It's best to keep skin damp when applying (or use after a hydrosol), as Hyaluronic Acid binds with moisture to create deeper hydration.
Note that Hyaluronic Acid serums are intended to be used as a moisture-boosting base for a consecutive serum.
This serum is safe to use every day, even on the most sensitive skin.
* Our serums are always bottled in biophotonic Miron Glass to protect the potency of the plant extracts inside. This bottle and it's contents are completely recyclable! At the end of it's life, please give it a loving home in your city's recycling bin, or better yet, reuse it
Hyaluronic Acid ⊹ A major moisture flush for the skin, our plant-derived HA is the gentle hydrator that every skin type benefits from. It is a naturally occurring polysaccharide found in the human body functioning to plump cells and hold water longer. It is known to speed wound healing and generate an instant glow.
Vit C ⊹ We love a daily dose of Vit C to fight environmental stressors like UV radiation, harsh wind, and ozone pollution. It is a non-negotiable in our line up. While housing major protection properties, Vit C similarly regenerates the skin by evening out tone (think sun spots + hyperpigmentation) by blocking the pathway of pigment synthesis. It is a necessary cofactor in building new collagen bundles, and has antimicrobial benefits to keep the epidermal microbiome in check.
Undaria Pinnatifida Cell Culture Extract ⊹ Rich in iodine, iron, potassium, calcium and vitamins B1, B2, B3 and B6, our Wakame (seaweed) Bioferment increases skin's oxygen consumption, while reducing the formation of reactive oxygen species to increase overall mitochondrial efficiency. It delivers potent purifying effects to minimize damage at the cellular level.
Coq10 ⊹ As one of the most fundamental antioxidants, Coq10 is a kind of fat-soluble quinone compound found in every cell of the human body and is vital in energy production of cells. When applied topically, it is known to repair damage and fight free radicals caused by UV radiation at the cellular level. It evens out skin tone by blocking tyrosinase, which helps with the production of melanin.
Aqua (Deionized Water), Aloe Barbadensis Leaf Juice (Organic Aloe), Hamamelis Virginiana Water (Witch Hazel), Glycerin (Kosher, Vegetable), Dimethyl Sulfone (Msm), Simmondsia Chinensis Seed Oil (Organic Jojoba), Tocopheryl Acetate (Vitamin E), Sodium Ascorbyl Phosphate (Vitamin C), Caesalpinia Spinosa Gum (Tara, Botanical Hyaluronic Acid), Ubiquinone (Coq10), Undaria Pinnatifida Cell Culture Extract (Wakame Bioferment), Carica Papaya Fruit Extract (Papaya), Centella Asiatica Extract (Organic Gotu Kola), Equisetum Arvense Extract (Horsetail), Geranium Maculatum Extract (Wild Geranium), Taraxacum Officinale Extract (Organic Dandelion), Camellia Sinensis Leaf Extract (Organic Green Tea), Pelargonium Graveolens Flower Oil (Geranium Essential Oil), Carbomer, Alcohol, Carrageenan, Hydroxyethyl Cellulose, Phenoxyethanol, Ethylhexylglycerin
This bottle's contents are 1fl oz / 30 ml. 
Customer Reviews
The best serum I have ever used
It's so amazing and healing for the skin.It repairs the my damaged skin from dehydration.Rebuild the protective skin barrier.I would highly recommend.
30 Apr 2021
Astyr M.

United States
Happy
I used to have a layer of build up on my face before using the Hyaluronic Acid Serum that just wouldn't go away even with gentle exfoliation. My skin is brighter and has a really soft and clean texture after using this product. I'm definitely buying again!
18 Apr 2021
Danielle V.

Australia
Delicious
My face just ate this product up. Truly a new experience for me. I am usually a water and go woman. My skin repels anything I put on her but this one was so loved. I will keep using.
16 Apr 2021
Jessica K.

United States
15 Apr 2021
K-Lee P.

United States
Splendid
With the exception of the Alechemy Serum, Atone is my favorite Moon+Rock product. I apply it to my face after a shower in the evenings before I apply Alchemy, and it has really enhanced the softness of my skin. I love Atone particular for my t-zone, it keeps my skin moisturized and feelin cozy. I cannot recommend these products enough ✨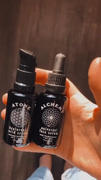 15 Apr 2021
Maureen J.

United States
Amazing!
I have tried everything - every oil, every serum for my maturing skin. Nothing is as pleasant and hard working as Atone. I swear my skin craves it in the morning and evening! It's become a beautiful start to my skincare routine. Love. Love. Love it!
14 Apr 2021
Jonelle G.

United States
Amazing product
My skin feels so soft and looks healthier since I have been using this. I would highly recommend this product.
14 Apr 2021
Natalie R.

United States
Love
I am so grateful for these products. My skin care routine has taken on a whole new form with results that are noticeable after a week of daily application. Thank you!!!
05 Apr 2021
Cynthia W.

United States
Works
I'm loving this stuff, makes my face feel hydrated
04 Apr 2021
Hannah R.

Canada
Love it!
I have always loved and admired Meagan's approach to skincare. It is the type of perspective and desire for holistic healing that has always come first for me- it all begins within. That being said, finding a product born from this sort of love, with great clean ingredients that works amazingly is just beyond!! This hyaluronic acid serum has complemented the minimal products I use perfectly and I can't see myself ever turning to anything else :)
04 Apr 2021
Cynthia M.

United States
Amazing
I have truly seen a difference in skin smoothness and tone and softness plus my pores have decreased in size with these products I already have another set just so I don't run out!!! I love them...
Smooth and bright skin
I am using Atone with Alchemy and my skin feels great. I'm in my 30s with rather oily skin, but these two products don't let me feel oily at all. Great hydration, and I got compliments for my glow and bright skin. Also, I love the clean ingredients and the simplicity in the packaging. Excited to try the new clarity!!
Love!
My skin feels radiant and vibrant since using Alchemy and Atone. So grateful to find this amazing company and products. I am excited to try Clarity, Lush, and Nourish. Thank you!
life changing
This serum is amazingggg within a week of using it my skin has felt so much more nourished and hydrated, and I barely get hormonal acne any more.
BEST SKINCARE PURCHASE EVER
I've been using this product for about 2 years now. It SIGNIFICANTLY shrinks acne and blemishes. My sister and my friend both tried it and now they swear by it too! It's all natural ingredients, antibacterial and smells AMAZING. I don't buy often because it does last for a long time but my only con is that i have noticed the price going up. :/ super worth it for someone like me who has tried it already but not easy to convince others to spend that lol
So Sad.
I was so excited about this serum. I had high hopes that it wouldn't irritate my skin and help with light scarring left from blemishes but alas, my skin is too sensitive. This serum caused my skin to dry out and break out. I know this worked for so many people and still think its an amazing natural product....just not for me. I think I'll try the hyaluronic serum instead?
Hi Brenna! I am so sorry that it didn't work for you. Please email us at contact@moonandrock.com and we will make it up to you!