Ultimate epidermal essentials for everyday rituals
The Complete System is the range of 4 topicals we use daily for ultimate epidermal nourishment and regeneration. This minimalistic range benefits every skin type on a daily basis to relieve symptoms of all types of imbalances. Just as the rest of the body, the skin requires the basic fundamentals of nutrients and hydration. These topicals are rich supplements for our largest organ.
The Complete System is designed to retexture and regenerate your skin's function and feel over time. By giving your skin the daily nutrients it craves, it will become less susceptible to breakouts, inflammation, discoloration, scarring, and premature maturation. These serums are consciously designed to be both immediately soothing while being regenerative and protective long term.
Includes Atone Hyaluronic Acid Serum, Clarity Vitamin C Serum, Radiance Retinol Rose Serum, and Alchemy Universal Face Serum.
Learn more about The Complete System here
Typically dispatched within 48hrs
Free U.S. shipping for orders over $100
Each serum contains 30 ml / 1 fl oz
What order do I use the serums in?

Bonus With Every Order

Environmental Consciousness

Money Back Guarantee
This Product Works Well With
Customer Reviews
14 Oct 2021
Anastasia P.

United Kingdom
Skin feels a glow
I am a wash face with water and use very little products on my face apart from the odd lush moisturiser. I am very happy with the Complete system. I was really surprised it arrived within a few weeks of ordering - I ordered from Scotland. I have used the complete system a couple of times over the last 2 weeks and already feel my facial skin has a slight glow and visibly looks clearer and happier! Really happy with these serums and surprised how well it works for me!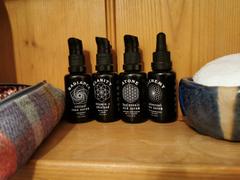 13 Oct 2021
Helen M.

United States
Satisfied
I feel like I am "feeding my face" - literally!
12 Oct 2021
Teresa K.

United States
LOVE
i have been using the complete system for 3 months now and i love it. My skin feels so fresh, rejuvenated, clear, soft and smooth. My mom noticed a difference after a few weeks of using. I love this product so much I bought her the complete set for her bday. ☺️ I am forever grateful to have found Meghan and her company. I feel her energy and intent every time I use them. Thank you Meghan from my heart to yours. ❤️ Namaste, Teresa K.
08 Oct 2021
marlene m.

United States
effective
for my needs, system is very hydrating, noticeable within three days…also, a tiny milia on forehead began to resolve, then disappear after first week problem is with clarity, in that pilling occurs when alchemy is applied which is disappointing and messy
05 Oct 2021
Hailey M.

United States
Amazing
Wonderful products! My skin felt hydrated and healthy!